About Enterprise Roofing Service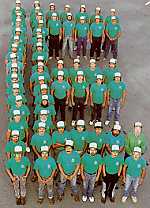 Since we opened our doors in 1962, Enterprise Roofing Service has worked diligently to rise to the top of Northern California's commercial and industrial roofing and waterproofing industry.
Over the years, Enterprise Roofing Service has installed thousands of roofs, encountering almost every conceivable roofing challenge. From the intricate high-tech roofs at Diablo Canyon Nuclear Power Plant, to the acres of built-up roofing at Sun Valley and Stoneridge Malls, we can do it all.
Our rock-solid reputation and longevity are a result of hard work and commitment to customer satisfaction. As a licensed, fully insured, professional roofing and waterproofing contractor, we get the job done on time, and we guarantee our work.
We have the experience and versatility you need. Enterprise Roofing Service is your full-service, single-source company for re-roofing and new construction roofing & waterproofing. We are the experts in cold and hot-applied built-up roofing, single-ply roofing, and all types of waterproofing, including patio deck coatings, podium deck, below-grade, air barrier, and blind-side applications. We are also certified applicators of clay and concrete tile, wood shake and shingle, and composition shingle roofing.
Company Information
Business & Financial Information
Incorporated: April 4th, 1963
State of Incorporation: California
California Contractor's License: #221274; classifications C-39, C-43, B, ASB, C20
Nevada Contractor's License: #12052; Class C-15 (No Limit)
Oregon Contractor's License: #185389
S.I.C. Codes: 1761, 1522, 1541, 1542
Federal Tax I.D. 94-1551712
D&B No. 02-806-7338, Rating – Excellent
*MBE certified (Supplier Clearinghouse)
Insurance
General Liability, Excess Liability, and Worker's Compensation
Broker: Gallagher Construction Services (Arthur J. Gallagher Risk Management Services, Inc.)
Address: 3697 Mt. Diablo Blvd.; Lafayette, CA 94549
Telephone: (925) 832-8000
Contact: Allen Brooks
Bonding
Carrier: Continental Casualty Company (a CNA Surety)
Broker: Andreini & Company
Bonding Capacity: $30 million (aggregate), $10 million (single job)
Address: 2603 Camino Ramon, Suite #200
Telephone: (925) 242-2377
Contact: Steve Passerine
Union Affiliations
International Union of Roofers, Waterproofers & Allied Workers: Locals #81, #40, and #95
Public Works Registration #
Professional Memberships and Affiliations

Armando Garcia
Superintendent
Wendy Hite
Administrative Assistant
Aubrey Shehorn
Vice President/Treasurer
Vicki Shehorn
Payroll Administrator
Mike Reardon
Corporate Secretary