Who We Are?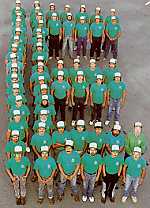 Starting in 1962 with superior quality and customer service as our goal, Enterprise Roofing Service has worked tirelessly to establish itself as one of California's premier union commercial roofing and waterproofing contractors.
Enterprise Roofing Service, Inc. is a licensed, fully-insured, and bonded, union roofing and waterproofing contractor. Our rock-solid reputation and longevity are a result of our commitment to quality and customer satisfaction.
With over two centuries of combined service, our staff has the experience and expertise to provide long term solutions for virtually any roofing and waterproofing need. Combine that experience with skilled union craftsmen and the most modern equipment in the industry and there is no project too difficult.
Our portfolio consists of projects of every conceivable level of complexity and magnitude. From nuclear power plants and high security government installations, to detail oriented OSHPD health care facilities, heavy civil and infrastructure complexes, and all types of commercial and retail properties, Enterprise Roofing Service, Inc. can truly do it all.
We are certified by every major manufacturer as installers of pre- and post- applied waterproofing systems, single-ply membranes, hot- and cold -applied built-up roofing assemblies and all types of composition shingle, wood shake and wood shingle roofing. We also have craftsman who specialize in slate, clay, and concrete tile.
Why Choose Us


We meet our customer's expectations
We have installed nearly every conceivable roofing and waterproofing system since 1962. We work with each client to ensure their goals are achieved. Our expansive materials yard and equipment fleet allows us to be versatile and respond quickly to customer demands.



 
Skilled Craftsmen and Staff
We use only skilled Union craftsmen, many of who have been part of our organization for more than 20 years. We are licensed to handle sheet metal work associated with any roofing project, including gutters, flashings and metal copings. During the installation process, steps are always taken to ensure the protection of your property.


We believe in protecting our employees and your property
Safety is #1 at Enterprise Roofing Service. We believe in doing the job right the first time and doing it safely. We have built our reputation on customer service and professionalism.


"I believe there is no other Bay Area roofing contractor who could have finished our project with such speed, flexibility and quality. I tip my hat to Larry Reardon and Enterprise Roofing."




Jerry Overaa, General Contractor
"The challenges overcome by the team included meeting a tight deadline; working in an occupied fire house during business hours; working within a tight budget; and coordinating logistics to work on the roof. An understanding of the communication plan and scope of work was well understood from the contractor and team at large, which contributed to the project's success. Thank you for all your hard work on making Fire Station #28 roof replacement project a reality, on time and on budget!"
San Francisco Dept. of Public Works
"I have worked with Enterprise Roofing Service on many occasions over the years on various projects by either requesting expertise on roof inspections, repairs, or new installation projects. Given our close relationship over the years, I was sure that when I needed them, I would be able to contact Enterprise and request assistance. I was fully satisfied in every aspect of their service even given the geography layout of our facilities. I would highly recommend Enterprise Roofing as a viable and competent company who performs well at what they do."
David S., Regional Facilities Operations
"I have been in the construction industry for over 30 years and have utilized many roofing companies during my time and I have to say that Enterprise Roofing, who I have used many times through many companies I have worked with, have been one of the best roofing companies I have dealt with. The quality of their workmanship has always been top notch and I cannot recall any call backs on their work. I have always been able to get a hold of someone to address my needs and never had to squabble over minor changes. I personally appreciate their professionalism."
Joe Shockley, Sr. Project Manager
"As property owners, the last thing you want on a rainy day is a phone call from a tenant saying that they have a leak, but when you do it's nice to know that you have a team like Enterprise Roofing to call upon. For us that is just one of many reasons we have been with Enterprise Roofing now for over 15 years. Their professionalism, expertise and responsiveness is something that we've seen and appreciate from their sales people all the way through to the maintenance men in the field."
Ray T (Commercial Property Owner)
Our Associations